Heading into the July 4 weekend, gas prices are the lowest since 2005, according to GasBuddy, a crowdsource based company that monitors gas prices in real time.
At an average of $2.21 per gallon, it is well under the 10-year average of $3.14.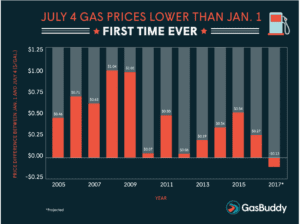 "It's thrilling to see gas prices falling just in time for the most-traveled summer holiday. Perhaps we can finally get rid of the myth that gas prices go up for the holiday," said Patrick DeHaan, GasBuddy senior petroleum analyst.
In addition, for the first time since GasBuddy began monitoring and analyzing gas prices 17 years ago, the price for a gallon of regular on July 4 is lower than a gallon on New Year's Eve.
Six months ago, an average of regular cost 12 cents higher than what is projected for July 4 while over the last decade, the national average has been as much as $1.04 per gallon higher on July 4 than on Jan. 1.
"Most importantly, motorists are getting a well-deserved break at the pump after years of high summer gas prices," DeHaan said. "This is like Christmas in July, instead of seeing fireworks at the pumps like we saw just a few short years ago."