State Police arrested three teens after a high speed chase on the Northway.
At 6 a.m. troopers spotted a black BMW headed south near Exit 17 going at a high rate of speed.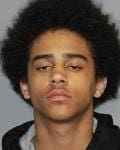 Troopers south of that location were notified of the vehicle and a trooper at the Kinns Road overpass spotted it doing more than 100 mph.
The trooper turned on lights and sirens and gave chase but instead of pulling over, the driver, 17-year-old Joshua Flores, of Colonie, drove off the highway at exit 9W, drove through a grassy area and collided with a guardrail.
He kept on going, though, and used the exit 9 northbound ramp to get back on the highway headed south. The maneuver caused several drivers to take evasive action to avoid a collision, according to the State Police.
He then entered the northbound lane rest area. When he attempted to get back on the highway, he was stopped and arrested by two troopers.
Flores was charged with reckless endangerment, DWAI-drugs, resisting arrest, obstructing governmental administration, unlawful fleeing a police officer in a motor vehicle and several vehicle and traffic offenses.
He was arraigned in the Halfmoon Town Court and remanded to the Saratoga County jail on $10,000 cash or $20,000 bond.
A passenger, Anthony P. Metellus Jr., of Albany, was charged with obstructing governmental administration and resisting arrest. He was arraigned in Halfmoon Town Court and remanded to the Saratoga County jail on bail of $1,000 cash or $2,000 bond.
Another passenger, an 18-year-old who is not identified, had a set of brass knuckles on him and was charged with criminal possession of a weapon.