ALBANY COUNTY |  At last night's county legislature meeting (Monday, July 11), Albany County Legislator Samuel Fein (D-6) recognized two Albany teenagers "for producing an award-winning song that celebrates personal empowerment and urges kids to resist drugs."
---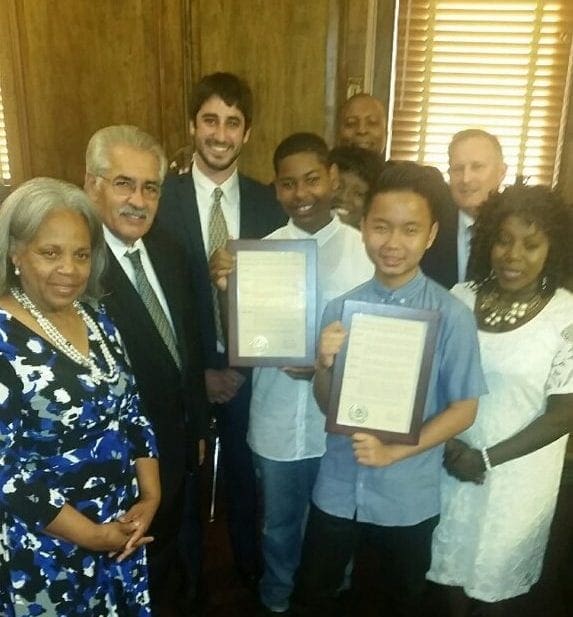 ---
Legislator Fein presented a proclamation to district residents Lee Reh and Rah-mene McDuffie, members of the musical group the Young Noble Gentlemen. In January, the Myers Middle School eighth graders Reh and McDuffie won the sixth annual Grammy Foundation and MusiCares Teens Make Music Contest for their production of "Fight," a hip hop/R & B song "that celebrates clean living and warns about the consequences of substance abuse." The teens won a prize package that included $5,000 cash and tickets to the 58th annual Grammy Awards, held Feb. 15 at the Staples Center in Los Angeles, as well as a backstage tour during a Grammy rehearsal during the weekend prior to the show.
Fein said he was happy to honor the young musicians on behalf of the entire legislature. The proclamation he presented dedicated July 11, 2016, as the "Young Noble Gentlemen Day" in Albany County. "Part of being a responsive elected official is recognizing constituents who are accomplishing positive things," he said. "I'm thrilled to extend my congratulations to Lee and Rah-mene, and shine a light on their great achievement."
Lee Reh resides on Grand Street, and Rah-mene McDuffie lives on Plum Street; the young men have been friends since they were in elementary school together and both are represented by Fein. The pair wrote "Fight" last year specifically for the MusiCares Teens Make Music Contest, after their manager learned about it online, which invited 14- to 18-year-olds to submit an original song that raises awareness about drug and alcohol abuse.
Check out the link to the "Fight"song: http://www.fly92.com/common/more.php?m=49&post_id=17671.
And a Young Noble Gentlemen interview with Fly 92.3's Morning Rush: https://www.mixcloud.com/flymorningrush/young-noble-gentlemen/