#MichaelAnson #ColonieNY #ParkDedication #JimFranco #SpotlightNews
COLONIE — Sue Anson can still see her husband Mike at what was Roessleville Park with the speakers outside the car blasting music and teasing the neighborhood kids while they played whiffle ball.
The former New York State Police trooper was raised not far from the park on Frederick Avenue and used to bring his family there as they were growing up.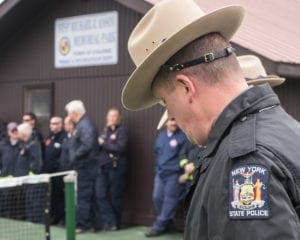 Those and other memories were talked about during a ceremony to name the park after Michael Anson, who died in January from a cancer that developed after a search and rescue mission he served at Ground Zero in 2001. He was 56.
"It is an honor and we are very proud," said Michael Anson's son, Conor Anson, a Colonie police officer. "I know if he was here he would be speechless. His whole life was Colonie, he grew up here. He went to Colonie High. We used to come to this park when I was growing up. I used to play pop warner in this park."
Michael Anson was a trooper for 31 years. He is one of 72 law enforcement officers from local, state and federal agencies killed when terrorists flew two hijacked planes into the World Trade Center and another into the Pentagon on Sept. 11, 2001. A fourth plane was crashed by passengers in a Pennsylvania field. More than 3,000 civilians and first responders died. Some, like Anson, years later from disease caused by breathing in the thick, toxic smoke.
"The day it happened, I don't think anyone, including my father, thought anything different than to go help," Conor Anson said. "He was dedicated to everything he did especially his job and his family."
Michael Anson is survived by his wife Sue Anson, three children and his brothers.
"He was the youngest of five boys so they spent some time here," said Sue Anson. "It's bittersweet now, it's hard sometimes, but I'm proud of him and he would have loved it. He would be really happy about it all."
His daughter, Mikala Anson, said her dad grew up in West Albany on Adams Street, used to work at the park that now bears his name and will always remember his dedication to his family and his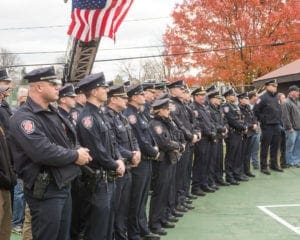 community.
"He was all about the youth and leading them on the right path and he would think this is a great place for them to come and play and stay out of trouble," she said with a grin. "He was all about working with the youth, he really loved kids, and he was the biggest family guy around. Even when he was sick, he used to say to all of us 'this is what is important … family is important.'
"We used to do everything together. Our whole family did. But, I was his girl."
During the ceremony, the town showed off new playground equipment at the park and has plans to install new equipment at all of its 12 pocket parks. The $350,000 for all the parks comes from a portion of the recent sale of the community center on Central Avenue.
"We have all these little beautiful little parks in the neighborhoods and the equipment is from the 1960s," said Supervisor Paula Mahan, adding installation at the West Albany pocket park is near complete and will be set for a formal unveiling in the spring. "We dedicated this park to trooper Anson because he worked here many years ago, and he put a lot of time and effort into programs for children in the neighborhood so it was fitting to name the park in his honor."