BETHLEHEM — This special event only happens once every four years: when Bethlehem High School band members perform with the districts' younger musicians.
During the district-wide 2016 Band Festival, held on Wednesday, March 23, combined bands composed of students from Bethlehem's elementary, middle and high schools played a pair of concerts.
Directed by staff members from the district's music department, the individual bands spent three weeks preparing for the large group performance in the high school gymnasium guest conducted by Anthony Maiello.
"Here over the last two days it has been a genuine and unimagined thrill to watch his dedication to our BC bands," said Bethlehem Music Supervisor David Norman of the maestro. Maiello is an accomplished conductor, whose past performances include conducting Gold Medal Ceremonies at the 1980 Winter Olympics in Lake Placid. He currently acts as artistic director and conductor of the American Festival Pops Orchestra, Washington, D.C., and is a professor of music at George Mason University.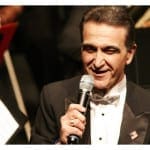 During the evening's first performance, Maiello conducted a band which combined elementary and high school musicians, followed by a second concert featuring middle and high school students.
"I love this festival mostly because it allows the different ages to play together," said Bethlehem Music Association President Alan Goldberg.
"I saw the elementary concert earlier this evening, and in this concert particularly I was watching the middle school students watch the high school students, because it really gives them a wonderful sense of where they're going to be quite soon, and how much growth can happen so quickly."
Thanks went out to the departments of transportation and maintenance, physical education teachers for use of their facility over the past two days, the board of education and the music department. Then, Bethlehem Music Supervisor David Norman took time to thank the performers and parents.
"None of this would occur without the effort and dedication of the fine musicians you see before you. Thank you parents for your persistence and support of your children's education."
"As you can see this is a tremendous undertaking," said Interim Superintendent Jody Monroe, at the event, which was also attended by several board members. "There's a lot of set up that goes into this performance. I'd like to thank, especially Mr. Gorman and our tremendous music faculty for their tremendous work on this performance. I'd also like to thank all of you – the family members and friends – who encouraged the kids and made this possible."
The BMA is a volunteer group that enriches the musical experience of the students of Bethlehem Central schools by sponsoring performances, purchasing district instruments, providing scholarships and sponsoring programs.
The rotating annual band, orchestra and choral festivals are made possible through donations to the Bethlehem Music Association. To learn more or to donate, visit bcsdmusic.org or visit the organization's Facebook page at https://www.facebook.com/Bethlehem-Music-Association-184221341643669/.