COLONIE — After about a two-hour give and take between Supervisor Paula Mahan and her department heads and members of the public, the Town Board on Thursday, Nov. 8, passed the $95.6 million, 2019 budget by a vote of 6-1.
Town Board member Jennifer Whalen was the lone no vote on the budget that increases spending by 5.26 percent and the tax levy by 5.48 percent, which exceeds the state imposed 3.45 percent tax cap in Colonie.
The owner of a median value home — with a market value of $230,000 and an assessed value of $145,000 — will pay $601.34 in town taxes in 2019, which is $29.20 more than this year, or $2.43 more a month.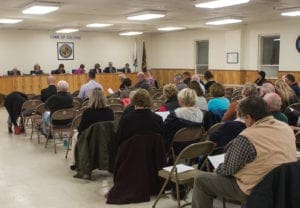 Whalen has said she is voting against any budget that exceeds the tax cap.
Right now, taxes are 3.72 per $1,000 of assessed value. In 2019 it will be $3.90 per $1,000. If the town opted to stay within the 2 percent tax cap, which in Colonie equates to 3.45 percent by the state formula, the increase would have been .08 cents per $1,000 of assessed value rather than $18 cents per $1,000. That equates to about $1.12 a month for the owner of a median value home.
The town initially proposed a tax levy increase of 7.5 percent, but Mahan and the Town Board opted to give up their raises and the town was able to project some $500,000 more in sales tax revenue to help offset the property tax increase necessary to balance the budget.
A good portion of the discussion, which was a true give and take with members of the public asking questions and getting them answered by members of the administration, revolved around the implications of development in the town.
Members of SAVE Colonie a Partnership for Planning, a grassroots group concerned with development in town, asked that money be set aside for open space preservation, and that the town spend money on technology to make information presented at Planning Board meetings easier to absorb by the audience. The money, they say, for things like overhead projectors for schematics and other diagrams developers present to the board, is included in the 2018 budget but has not yet been spent.
Mahan said it is on the long list of things to do.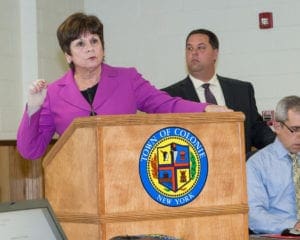 One resident, Lawrence Fredericks, took issue with the recently issued Payment in Lieu of Taxes agreement given to the Galessi Group to build a new headquarters for Ayco, a subsidiary of Goldman Sachs, off of Route 9.
"Why are we giving millions of dollars of tax incentives to companies who would likely want to be here based on our location, based on demographics and based on all the factors that make everyone else want to be here," he said. "Why are we picking winners and losers. Why are we giving certain businesses millions of dollars in tax incentives and later, that same year, tell the tax payers who are not getting any tax incentives to live here, that you get to shoulder the burden."
Acting Comptroller Chris Kelsey said there are currently four PILOT agreements out, three are for senior housing projects and the fourth is for the Ayco project.
"The IDA did an extensive study showing the project will bring money into the town and the connector road and there was significant amount of competition for the project," he said. "If the incentives were not offered, it would not be coming here and the 600 well-paying jobs wouldn't be here as well."
Town Attorney Mike Magguilli said the town IDA, a quasi-governmental body, is very conservative in who they grant incentives to and reiterated that without the incentives the company would likely have picked somewhere else to build. He also took issue with the claims of "over" or "rapid" development.
"When I hear people talk about rapid and over development they never follow it up with any facts or figures. What baseline is used?" he said, adding the town's growth is below what was projected in the 2005 Comprehensive Plan.
One of the largest reasons for the increase in spending, and the subsequent tax increase, is the recently negotiated union contracts that give the town's some 500 employees a 1.25 percent wage increase over four years.
This year, salaries were $38.8 million and next year they will cost $40.5 million. In addition health care will increase by some $900,000. Debt service also spiked by $1.6 million mostly for ongoing projects at the Sewer and Water plants.
New positions include a School Resource Officer in North Colonie schools and a new planner.
One resident asked about the salaries and, since they are recurring, if next year's budget would also go above the tax cap.
"We try to come up with the best budget we can and still provide the service you expect," Mahan said, adding there were the equivalent of 57 jobs eliminated since 2010. "We don't play shell games. We could put all sorts of districts in there, which will keep the budget within the cap, but may cost you more money."
To the development issue that dominated the conversation on Thursday, Mahan said Colonie ranks 10th in the number of new homes built in Capital District.
"The thing is with development and growing communities around us it creates traffic. We have 83,000 residents and we get 250,000 cars a day using the Northway and Route 5 and Route 9 and that is result of our location," she said. "We are in the middle of four major areas. Albany, Schenectady, Troy and Saratoga County and when anyone has to go anywhere they go through Colonie. And we are growing too and times change. People don't have one car anymore they have two and three and all these things add to it."