#HewittsGardenCenter #TroySchenectadyRoad #JimFranco #SpotlightNews
COLONIE – The Hewitt's Garden Center on Troy Schenectady Road is closed.
Keeler Motor Car Co., which owns the adjacent land across Ronald Drive, a dead end street, bought the property in February.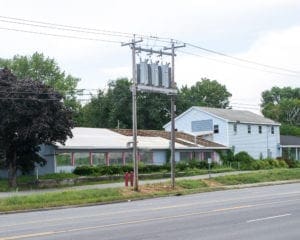 According to the Business Review, which cited records filed with Albany County, the purchase price for the 9.1-acre parcel of land was $2.5 million.
Hewitt's did not own the land, according to Jimmy Lambert, an assistant manager at Hewitt's and the company had an Aug. 31 deadline to vacate. The store was closed to the public on Aug. 22, Lambert said.
Keeler Vice President Patrick Ryan would not comment on plans the dealership — which not only sells Hondas but also high-end names like BMW and Mercedes Benz as well as the MINI Cooper — has for the land. The company, one of the largest car dealerships in the Capital District, has expanded its presence on Troy Schenectady Road in recent years and has built new showrooms to feature different makes and models.
There was heavy equipment parked behind the aged Hewitt's building on Thursday, Sept. 6, and there was a crew removing trees on the property's periphery. A portion of the roof had been torn off.
The Latham Hewitt's is the third garden center opened by the company and has been at the location since the 1980s.
The company, based in Scotia, boasts of being the fifth largest independent retail garden center in the country that has been in business for more than 50 years. It has stores in Scotia, Clifton Park, Guilderland, East Greenbush, Wilton, Glenmont and Queensbury.