#DelmarBoyScoutTroop58 #EagleScouts #LocalScouts #AliHibbs #SpotlightNews
BETHLEHEM — Four Boy Scouts from Troop 58 in Delmar have achieved the organization's highest rank, a feat accomplished by only an estimated 4 percent of scouts nationwide. Sean Leslie, Andrew DeCandia, Jeffrey Hansen and Jacob Kantrowitz were publicly recognized for achieving the rank of Eagle during a semi-annual Court of Honor Ceremony on Saturday, May 26.
A major focus of the Boy Scouts of America organization is community service, especially for those who aspire to its highest ranks. Each boy is expected to not only learn a variety of skills, but also share his knowledge and use it in service to his community.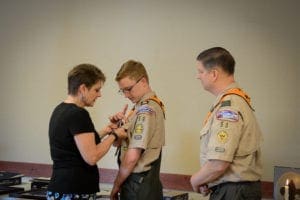 In order to earn the rank of Eagle, scouts must identify a need in their community, develop a project to address that need, and then gain approval, implement and direct that project. Projects are completed with the help of other troop members and volunteers, giving the Eagle applicant an opportunity to practice leadership as well as share the skills and knowledge he has acquired, while also benefiting his community.
Leslie dedicated his Eagle project to the First United Methodist Church of Delmar. After the church completed a renovation that added a handicapped accessible entrance, Leslie created signage directing members and visitors to the new entrance. He, and the 23 scouts who assisted him, also constructed dry wells to divert rainwater from the church's thrift shop and did extensive landscaping on the property.
Hansen worked to benefit the Bethlehem YMCA's summer camp program. With the help of fellow scouts, he built 13 wooden benches to replace aged and rotting seats, renovated and expanded a stage, and raked and cleared both the campgrounds and camp activity areas.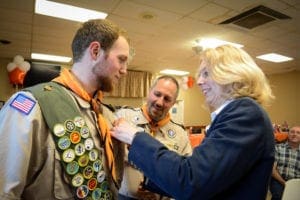 "Watching Jeff go through this process since he was a very young cub scout, I've been able to see the skills that he has developed, how he has grown and matured and the incredible experience he has had as a scout," said Mark Hansen, Jeff's father and a troop committee member. "I was fortunate enough to share in many of those experiences. And they've really helped him to grow into an outstanding young man."
Kantrowitz worked on the trails at the Mohawk Hudson Land Conservancy for his Eagle project. He leveled ground, and repaired or built bridges along the trail with the help of 30 volunteers from Troop 58 as well as from Troop 75 and members of Christian Brothers Academy. The project gave Bethlehem High School students access to an outdoor classroom directly across the street from their school.
For his Eagle project, DeCandia collected 1,273 children's books to place in six little free libraries he built to help the nonprofit Grassroots Givers expand access to books for children in lower-income areas. "I wanted to do something little more construction-based," said DeCandia, noting that his fellow scouts had opted to focus on the outdoors. "And there was also an education component to it that I liked."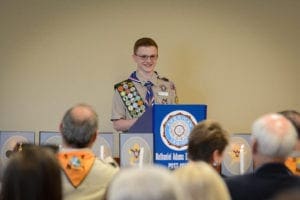 According to DeCandia, the most challenging part of these projects can be simply coordinating all those who donate their time, effort and resources. He didn't expect the amount of volunteers who showed up on the first day of constructing the little libraries at the First United Methodist Church, which allowed him to build the cases on its property. "I expected seven or eight people to show up," he said. "And there were closer to two dozen, along with their parents. We got much more done on that first day than I thought we would."
DeCandia joined the troop because his father, the troop's current Scoutmaster, was an Eagle Scout before him and his family, he said, "expected no less of me."
"I was happy to follow in my father's footsteps," DeCandia said. "And work to become an Eagle Scout like him."
The process of advancing through all six ranks—Scout, Tenderfoot, Second Class, First Class, Star and Life—to achieve Eagle takes considerable perseverance, as every Eagle knows.
After joining and satisfying a few simple requirements for the Scout badge, the first three ranks can be earned in a relatively short period of time. After First Class, the advancement to Star, Life, and Eagle present additional challenges and opportunities that require demonstrating leadership skills and serving others. Certain badges and accomplishments, as well as time spent in troop service, are required for rank advancement and must be signed off on by the scoutmaster or an assistant scoutmaster.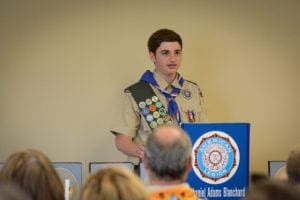 The required Eagle project must be approved and certain requirements must be met. After reaching Eagle, scouts may continue to work on merit badges, For every five additional merit badges plus three months of active participation in the Troop a scout may earn an Eagle Palm.
Anyone interested in joining the troop should email Scoutmaster Rob DeCandia at [email protected] or visit the troop's website at http://www.troop58.us/.