BETHLEHEM — "Probably the worst place people can 'dispose' of paint and other hazardous materials is dumping them down their household/sewer drains or, even worse, outdoor storm drains. But, unfortunately that still occurs sometimes," said Bethlehem Recycling Coordinator Dan Lilkas-Rain.
According to the state Department of Environmental Conservation, New Yorkers dump more than 100,000 tons of household hazardous wastes into trash cans every year. These are substances that have the potential to cause a violent chemical reaction or ignite; are dangerously corrosive; or are toxic and harmful to human health.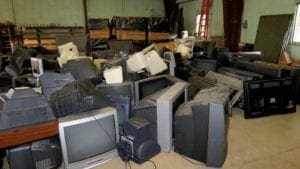 When improperly disposed of, those wastes can poison the air, soil, water, birds, fish, mammals and even people and pets.
To address the issue locally, the town's recycling program (part of the sanitation department, overseen by the highway department) holds hazardous material drop-off events twice a year. The most recent event, which took place on Saturday, Sept. 30 at the town's Highway Garage, collected approximately tens of thousands of pounds of the offending materials, keeping them from local waterways, soil and landfills.
According to Lilkas-Rain, this fall, 582 households brought in:
•  Approximately 4,870 gallons of paint;
•  1.5 tractor-trailer loads of electronics (electronics can be recycled year-round at the town's transfer station at 136 Rupert Road in Selkirk);
•  Approximately 1,375 gallons of lawn chemicals;
•  More than 1,300 gallons of corrosive solids and liquids;
•  Automotive fluids, fluorescent bulbs, rechargeable and lead acid batteries (alkaline batteries are not toxic and no longer recycled—they should be disposed of in household trash),
•  and small quantities of mercury thermostats and thermometers.
Note: Considered a universal waste, mercury-containing thermostats (digital thermostats do not contain mercury) and thermometers are the only items accepted year-round at Bethlehem's Highway Garage for safe disposal, but must be packaged protectively, given the highly hazardous potential of a mercury spill occur.
"I want to thank all of the residents that participated, helping keep these hazardous materials out of the waste stream," said Lilkas-Rain. "The event would also not have been possible without our community volunteers Nanci Moquin and Diana Jacon, and the Highway Department employees who worked the event, including our new Acting Superintendent, George Kansas, P.E.," Lilkas-Rain added.
Other upcoming collection events hosted by the Town of Bethlehem:
•  Pharmaceutical Collection: Saturday, Oct. 28 at Elm Avenue Town Park from 10 a.m. to 2 p.m.
•  America Recycles Day: Saturday, Nov. 18 at Bethlehem Middle School from 10 a.m. to 1p.m. Clothing & other textiles, secure document shredding, and book recycling. (Secure shredding of documents on this day is limited to town residents and BCSD taxpayers with ID.)
For information about recycling in the town, visit www.townofbethlehem.org or email Lilkas-Rain at [email protected] or call (518) 439-4955 ext. 1510.
Photos by Tom Heffernan Sr.