---
BETHLEHEM — Last weekend, April 21-23, two teams of students from the Bethlehem Central Middle School competed at the Junior Varsity National History Bowl tournament at the Crystal Gateway Marriott in Arlington, Virginia, earning first and second place in their divisions.
The Bethlehem students competed against other qualifying teams from all over the United States. While the BCMS teams were comprised of students in grades six through eight, many of their competitors at the National History Bowl were ninth and tenth graders. (Tenth is the highest grade eligible for the JV Bowl.)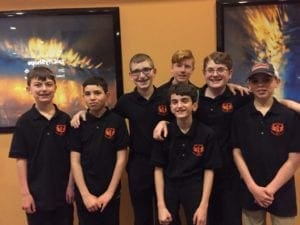 BCMS Team B, grades 6-7: Seventh graders Griffin Roeder, Caleb Ells, Daniel Middendorf and sixth grader Connor Reilly won first place in their six-team division against two other teams from New York, as well as teams from California, Texas and Georgia.
BCMS Team A, grade 8:  Cooper Patschureck, Michael Fishburn and Ben Goldberg earned second place in their six-team division, behind a team from Pennsylvania and ahead of one from Paramus, New Jersey.
"This is an incredible accomplishment for these students and for the school," wrote district officials on the BCSD website. "Congratulations to the entire history club for their hard work in reaching national level competition and for making BC proud!"