A vehicle-on-vehicle crash occurred Thursday afternoon, May 19, around 11:30 a.m. at the intersection of Delaware Avenue and Becker Terrace in Delmar, directly in front of the Spotlight News offices.
A silver mini-van was pulling out of Becker Terrace, onto Delaware Avenue, when it was hit by a handicap-permitted Honda Accord traveling on the street, heading in the direction of Delmar's Four Corners. The Honda experienced damage to its front end and windshield, primarily on its right side, while the mini van experienced extensive damage to its front end, with the front bumper almost entirely broken off.
No injuries appear to have occurred, but the Honda's air bag did release on the driver's side. The mini van was occupied by two females and the Honda was operated by a single male.
Bethlehem Police reported to the scene shortly after the crash.
A number of cars were parked on Delaware Avenue, to the left of Becker Terrace, in front of Joe's Barbershop at 337 Delaware Ave., likely diminishing the mini van driver's vision of oncoming traffic.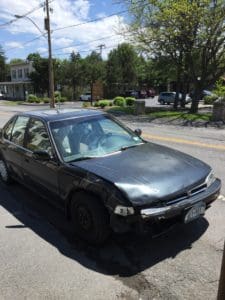 The town's Delaware Avenue Enhancement Project, currently under construction, includes plans to better define street-side parking on Delaware Avenue, partly in effort to reduce accidents such as this one, which occur frequently at Delaware Avenue intersections because of the reduced visibility for drivers created by street-side parking on Delaware Avenue.