TROY — Eric and Leigh Gibson — the namesake of their bluegrass band, The Gibson Brothers — are rooted to northern New York. They were born there, they were raised there and Eric still calls that part of the state home.
So, it's no surprise that they look forward to every show they play in the region they call home, including their Troy Savings Bank Music Hall concert Saturday, Oct. 8, at 7:30 p.m.
"We had such a good time — especially the last time we did it (in 2015) — that we were thrilled when we learned we got the chance to play there again," said Eric during a phone call while he and the band were traveling back from a show in Kentucky on Sept. 25. "There's a lot of history in that building, and it's such an acoustically pleasing room to play."
For Leigh, Saturday's show is his homecoming show. He and his family live in Scotia.
"I think the last time, there were 50 to 100 people from my church that bought group tickets," said Leigh. "It was kind of neat, you know?"
A lot of neat things have been happening for Eric and Leigh in the last five years. They signed to Rounder Records — a major label for roots and bluegrass music — and released their first album for them, "Brotherhood," last year. That came on the heels of two straight wins for Entertainer of the Year at the International Bluegrass Music Association (IBMA) Awards, as well as several other honors including Vocal Group of the Year, Album of the Year for "Help My Brother" and a Songwriter of the Year award for Eric for "They Called it Music."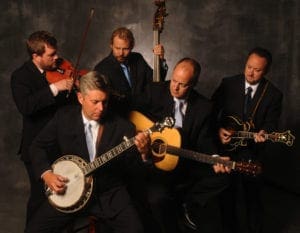 The last five years have been a culmination of all the hard work Eric and Leigh have put in since they began performing two decades ago in the small towns that dot the northern edge of New York.
"First of all, I can't believe how quickly the time has passed. I still feel like a relatively young guy," said Eric. "It's been a gradual thing. Whatever success we've had, we've had to work hard and chip away at it."
Leigh said he couldn't have imagined this would be where music would take him and Eric when they were growing up in the farming community of Ellenburg Depot, approximately 30 minutes west of Plattsburgh.
"I didn't know it existed," said Leigh during an interview at More Perecca's in Schenectady. "It's a funny kind of occupation. When I was a teenager on the farm, I knew I wasn't going to be a farmer. My father told me I wasn't going to be. I didn't know what I was going to be, though. I thought I'm going to join the Army. And then, I thought I was going into law enforcement. That led me to believe that I actually like the law, and so I was going to go to law school. That's why I got the English degree.
"It (the music) started as a local thing, then a regional thing and then a seriously regional thing that turned into a sometimes-national thing into an occupation."
The Capital District venues the Gibson Brothers have played in recent years mirrors the band's rise in the bluegrass world. The group went from playing small rooms such as the performance space above Lillian's restaurant in Saratoga Springs to The Egg, and now their second headlining show at the Troy Savings Bank Music Hall.
What's helped vault the Gibson Brothers into the bluegrass stratosphere has been their live shows. Not only do their songs, which Leigh said are mostly personal, resonate with their fans, but also the good-natured barbs that Leigh and Eric are known to throw at each other.
"It's not really planned, so if somebody's got a migraine, it's really rough," joked Leigh. "But you know, when you see us on stage, you see how we really are. We like to have a good time and let the audience get to know us a little bit. Our songs are very personal and somewhat autobiographical, but … the digs back and forth, they sort of get to know us."
"We try not to go overboard with that stuff because we don't want it to seem scripted or canned," added Eric. "I think we're just comfortable with each other, and it just comes naturally. We don't talk about it much before the show."
The unscripted nature of the on-stage banter is an extension of how a Gibson Brothers set list is created on the spot. The brothers gauge the mood the audience is in and run with it, accompanied by two-time IBMA Mandolinist of the Year Jesse Brock, fiddler Clayton Campbell and bass player Mike Barber – the longest-tenured member of the band.
"I've noticed on those nights when we get the crowd laughing and happy, they'll listen to just about anything," said Eric.
Lately, the Gibson Brothers have been playing several songs from their upcoming album, their first of original material since 2013's "They Called It Music."
"You always have your fingers crossed that they will go over well," said Eric. "But we've already test-driven four of five of the songs, and thankfully, the people have responded very well to them."
Eric and Leigh wrote virtually all of the 13 songs on the new album themselves, with very little outside help. But one of the songs has a special co-writer on it – Eric's eldest son, Kelley, who is beginning his own bluegrass journey at the age of 20.
"It's great because he can stand in front of five or 5,000 people, and I don't think it would affect him or his performing of the music," said Leigh. "He said to his father, 'Music is my language. I really connect to people that way,' and he certainly does a great job. He'll get up and play a song with us, and Jesse Brock described him and his singing style as fearless. And, he is."
Eric said watching Kelley follow his own musical path has been enjoyable for him, but he knows how tough that path can be.
"I don't push (a music career) on him," said Eric. "You kind of wish your kids would find something stable to do, so you don't worry about them."
People will get the chance to hear Kelley's musical collaboration with his father and his uncle when the Gibson Brothers' new album comes out at the start of 2017, along with the rest of the songs Eric and Leigh wrote. Fans attending Saturday night's show can expect to hear several of those songs, along with many favorites from the group's past such as "They Called It Music" and "Safe Passage."
Most of all, fans can expect to have a good time at this hometown show.
"You can't help but seem to feel like there's a little bit more excitement … the audience is engaged with you immediately because they know you so well," said Leigh.
Tickets for Saturday's show are $25-$30. Advance tickets can be purchased at the Troy Savings Bank Music Hall, 30 Second St., by phone at 273-0038 or by visiting troymusichall.org.