Soaring Eastern Bluebirds, the official bird of New York state, can now be seen gracing the northern-facing side of the Quackenbush Parking Garage on Orange Street in downtown Albany by commuters driving into the city. Part of a mural measuring approximately 25 feet high and 85 feet wide, the birds symbolize a collaborative effort by the Albany Parking Authority and two nonprofit arts institutions "to create a welcoming gateway into Downtown Albany that will buoy the ongoing expansion of the city's bustling business district."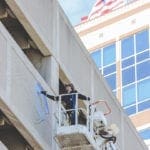 "The past two weeks have been great," said the mural's curator Tony Iadicicco on Tuesday, May 24. "It's exciting driving in to downtown Albany and seeing Michael [Conlin] at work. Each day, he's bringing his vision to life, and the process has allowed thousands of travelers a chance to see a work in progess."
Iadicicco is the Executive Director of Albany Center Gallery on nearby Columbia Street and said that he and the Albany Barn were approached by the Albany Parking Authority and asked to participate in the mural program. He was asked to curate the wall and immediately knew that Conlin, a commercial artist at Conlin Studios, was at the top of his list of potential artists. Conlin, who is an Albany native, specializes in hand painted artwork and his work is on display throughout the Capital District at locations such as Capital Roots in Troy, Wolff's Biergarten in Albany and Hamlet & Ghost in Saratoga Springs.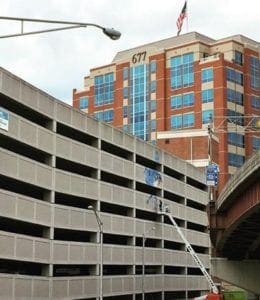 "I am honored to have been selected to paint this mural. It is a symbol for so much positive movement that has happened in Downtown Albany as of late," said Conlin. "This is the biggest project I've ever taken on and it's humbling to know that my work will be seen by tens of thousands of people every day."
The mural, done with primary and exterior latex and spray paints, is most visible when exiting from I-787 southbound via Exit 4B onto Clinton Avenue, just south of the exit ramp that ends on the corner of Clinton Avenue and Broadway—a primary point of entry to the Downtown Central Business District. Conlin's inspiration for the birds, portrayed in various stages of flight toward Broadway was, in part, due to his vision of downtown Albany as a gathering place that people "flock" to. The exit from I-787 creates a landing place for all who enter the city and is meant to further underscore that Albany is a welcoming place to visitors.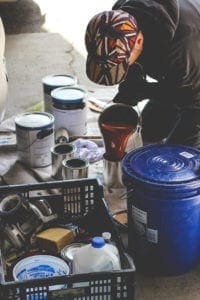 Iadicicco said he expected the mural to be completed during the coming weekend (of May 28) and that there are tentative plans to hold a commemorative event under the bridge—"with music, refreshments, lighting show and complete mural. We're still working on the logistics."
"Art inspires people to visit and explore communities," said Iadicicco. "It is a connector and something that truly benefits everyone. There is no reason Albany can't have an even more vibrant arts scene. The mural will quite literally paint the picture from the interstate that Albany is a city that has embraced the arts."
Iadicicco and Albany Center Gallery, a non-profit art space dedicated to exhibiting skillful contemporary art of the Mohawk Hudson region, worked closely with Albany Barn, which operates an incubator for creative content entrepreneurs and community arts center in Arbor Hill. "The involvement with the Barn has been very important," said Iadicicco. "We've been working with them on artists contracts and support for marketing and outreach and messaging for the project. Jeff [Mirel, president of Albany Barn's board of directors] and Kristen [Holler, the Barn's executive director] have been great, and it just goes to show how important collaboration is."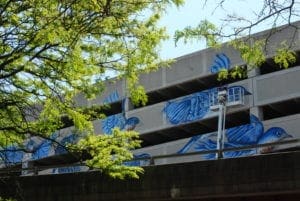 In addition to providing one of its parking structures as the 'canvas,' the Albany Parking Authority is funding the installation. "We wanted to create a unique welcome to New York's Capital City," said Albany Parking Authority Chairman Kevin O'Connor. "Our garages are a blank canvass perfect for talented artists like Michael Conlin. His vision is perfectly aligned with many of the existing efforts here in Albany. The arts can be a driver for economic vitality and excitement, and we want our garages to be a part of that excitement."
"When Kevin O'Connor reached out we were more than eager to assist in pulling together this project," said Holler. "Albany Barn  strives to advocate for creative professionals, ensuring they have a seat at the table when talking economic development and community revitalization, and providing the skills and resources necessary take advantage of opportunities like this – to partner with business and government on a project that highlights the rich creative economy in our region and transforms a major gateway into our City."
"It is tremendous to see so many of these Albany organizations come together for the greater good of the city we all love," said Mayor Kathy Sheehan. "This mural is emblematic of our thriving arts scene and the economic growth and success we've all witnessed downtown. Simply put, it is another attraction to this entertainment district."