BETHLEHEM — Perseverance. The newest Eagle Scouts in the Boy Scouts of America Elsmere Troop 58 will tell you that's one of their biggest takeaways after having achieved a rank that only an approximate 4 percent of Boy Scouts have ever attained. In addition to learning how to tie a knot, administer first aid and survive in the wild, learning to overcome their own limitations and persist even in the face of adversity are skills they now know will continue to serve them throughout their adult lives.
In late December, Troop 58 held its semi-annual Court of Honor Ceremony, recognizing the achievements of scouts who earned merit badges in a variety of areas, such as first aid, fitness, fire safety, reading, personal management, even dentistry. Five scouts advanced in rank, while Eagle Palms were awarded to those who continue their service and involvement even after achieving the organization's highest rank.
"As you progress through the ranks, you go from learning the actual skills and, as you become an older scout and advance toward the rank of Star and the eventual Eagle and Eagle Palms, your job is to then take that knowledge and practice what you preach and teach younger scouts," said Eagle Scout Connor Roddy. "And so you almost create a life cycle of Scouts teaching and being taught, and so on."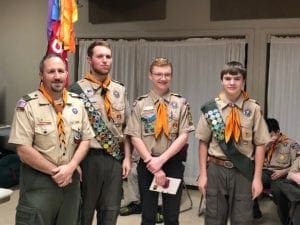 "I earned my Eagle earlier this year," said Joseph Fierro. "I'm also a member of camp staff at Rotary Scout Reservation, and I have to say it is quite an experience to give back to the program that I once experienced as a camper."
In the nearly 100 years that Troop 58 has been in existence, hundreds of Elsmere Scouts have advanced to the rank of Eagle Scout. "We've had a very successful history," said Roddy. Nearing graduation, he said he would like to join an inner-city troop if he attends college in Boston — in the hopes of sharing what he has learned with scouts who may not have the same opportunities he has benefited from in Elsmere.
One of his favorite memories as a younger scout was of hiking in the Adirondacks when he was in sixth grade. "One of the first big hikes I ever did," said Roddy. "Wet and muddy, it was an experience that I don't think any other activity would ever provide you. I can't think of any activity that I would be knee-deep in mud, cold and miserable, but at the same time having an absolute blast with my friends and learning how to do things like cooking breakfast, pitching tents, cutting wood, finding potable water, stuff like that."
Fierro said his scouting experiences have not only taught him to be more extroverted, but life skills such as communication and leadership as well. "Skills," he said, "that I'll carry with me for the rest of my life."
"This troop is very active and that's why there are so many Eagle Scouts," said Rose Ann Garry, a Committee Member for Troop 58. "And that's because we have adult leaders who are willing to go on outings with the guys, because those are the things that are required for Eagle — you need to have 20 camping nights, for example, and there are other things like canoeing, hiking and community service — so, if troops don't have that support to get them out on those outings, they're not going to be able to get to that rank."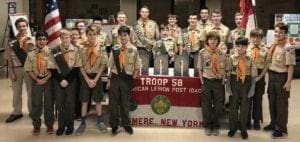 Community service, noted Andrew DeCandia, a senior patrol leader and a life scout who is currently working on his Eagle rank, is a very important aspect of being a Boy Scout, even into adulthood. "We do a lot of community service to give back to the community," he said. "Because for us to go on all these trips that we go on, we need support from the community. We need them to support us in our fundraisers, things like when we do the pancake dinner — which is coming up on Jan. 16 — and the car wash and the selling popcorn and all of these things. We try to give back by doing things like the highway road clean up, through the Adopt-a-Highway program, we clean up Cherry Avenue Extension twice a year. We do Scouting for Food. And all of these Eagle projects help promote things like education and environmental issues and things like that. It's a big part of what we do."
For his Eagle, said Roddy, he built and placed 11 "bird boxes" for the Mohawk Hudson Land Conservancy. A bird lover, his initial idea was to build a bird blind but he ran into technical difficulties and ultimately chose to build the boxes instead. Fierro built benches and did landscaping for the American Legion in Delmar, a sponsor of Troop 58. Both Scouts said selecting a project, getting clearance, finding and organizing other scouts to help and then implementing their chosen project was no small task.
"Finding the right project, striving to find projects that will benefit the community," said Fierro. "Connor said that perseverance was a major takeaway and it most definitely is. Finding organizations that you can complete projects for, finding the right project for you, doing what you like that will benefit the community as well."
The very process of advancing through all six ranks takes considerable perseverance, as every Eagle knows.
After joining and satisfying a few simple requirements for the Scout badge, the first three ranks — Tenderfoot, Second Class, and First Class — can be earned in a relatively short period of time. After First Class, the advancement to Star, Life, and Eagle present additional challenges and opportunities that require demonstrating leadership skills and serving others. Certain badges and accomplishments, as well as time spent in troop service, are required for rank advancement and must be signed off on by the scoutmaster or an assistant scoutmaster.
The requisite Eagle project must be approved by the Troop Committee and Council Advancement Committee before beginning, and the candidate is expected to give leadership to other scouts in doing the work and to draw from his previous scouting experience to see that the work is done well. After reaching Eagle, scouts may continue to work on merit badges, For every five additional merit badges plus three months of active participation in the Troop a scout may earn an Eagle Palm.
Anyone interested in joining the troop should email Scoutmaster Rob DeCandia at [email protected] or visit the troop's website at http://www.troop58.us/. Troop meetings are held on Wednesdays from 7:30 to 9 p.m. at St. Stephen's Church following the school calendar, except when noted on the troop's public calendar on its website.