TROY — Albany Pro Musica will open its 37th season with a concert showcasing its new composer-in-residence.
APM starts its Artist Series with a presentation of composer Ola Gjeilo's "Across the Vast, Eternal Sky." It's Gjeilo's first concert since committing to a three-year position as APM's composer-in-residence. Gjeilo, one of the most frequently performed composers in the choral world, is also an accomplished pianist. His reputation for improvisations over his own published choral pieces has become a trademark of his collaborations across the world.
Across the Vast, Eternal Sky: The music of Ola Gjeilo with the American String Quartet will be performed Sunday, Oct. 29, at 3 p.m., at the Troy Savings Bank Music Hall. Tickets are priced at $35 and $25 ($15 for students).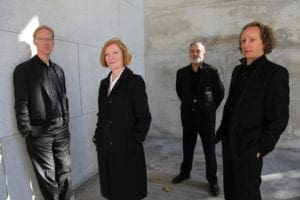 The opening concert features Gjeilo's earlier works, including "Ubi Caritas," "Dark Night of the Soul," and "Across the Vast, Eternal Sky," in a collaboration with the internationally acclaimed American String Quartet. The Quartet will join Gjeilo on the piano after performing one of its signature masterworks:  Beethoven String Quartet Op. 95 in F Minor, Serioso.
The Norwegian composer, who now calls New York City his home, said he is very excited to start the season and his residency with the APM choir. His most recent residency was with Voces8 in England.
"This will be the first time experiencing the hall," said Gjeilo. "I'm very excited to get the chance to perform in it with Pro Musica. I've heard incredible things about the hall, both about the acoustics and on how beautiful it is. So, I can't wait to actually experience it for real."
Jose Daniel Flores Caraballo, APM's artistic director, describes Gjeilo's music as "exquisite," and the reason he had reached out to the composer for the residency position. Already, the choice has made Caraballo's task of arranging this concert that much easier. In his program notes, the maestro describes a creative process in which the intensity makes him feel like, "I die a little."
"However, the task was easier with this concert," stated Caraballo. "I found that each composition from Ola Gjeilo's body of work was connecting to my heart in a special way. Not only is his music exquisite, well written and emotive, but his carefully selected lyrics are poignant, powerful and evocative."
Gjeilo's said he has drawn inspiration from the improvisational spirit of jazz musicians Keith Jarrett and Pat Metheny, American film scores from Thomas Newman and the whimsical architecture of Frank Gehry. Each has played a role in the composer's distinct sound, a continuously evolving style that is both contemporary and familiar. His albums include his Decca Classics CDs "Ola Gjeilo and Winter Songs," featuring Tenebrae, Voces8 and the Choir of Royal Holloway. His debut recording as a composer and pianist, the lyrical crossover album "Stone Rose," was followed by "Piano Improvisations."
Phoenix Chorale's bestselling "Northern Lights" collection of Gjeilo's choral music was named iTunes Best Classical Vocal Album of 2012. His next album, "Winter Songs," drops Friday, Nov. 17 with its first single released Friday, Nov. 3.
Future performances in APM's 2017-2018 Season  
The Many Moods of Christmas
with the Orchestra Pro Musica
Sunday, December 17, 3 p.m., at the Troy Savings Bank Music Hall   
Tickets: $35, $25 Student $15
Now an annual holiday tradition for families across the Capital Region.  This year's program features Ola Gjeilo's stunning "Dreamweaver" and Robert Shaw's exhilarating collection, The Many Moods of Christmas Suite III.
High School Festival
featuring Composer-In-Residence Ola Gjeilo
Sunday, January 14, 2018, 5 p.m., at the Troy Savings Bank Music Hall   
Tickets: $15
Gifted student musicians join Albany Pro Musica onstage for a transforming experience: the chance to sing with the region's premier chorus at an internationally-renowned concert hall.  Choirs from local high schools will all perform individually, followed by a grand finale – 260 voices and instrumentalists under the baton of APM Artistic Director José Daniel Flores-Caraballo.
Broadway Returns
Sunday, March 4, 2018, 3 p.m., at the Troy Savings Bank Music Hall
Tickets: $35, $25 Student $15
Back by popular demand, Albany Pro Musica and the Pro Musica Pops perform a tour de force of select, all-time favorite Broadway tunes.  A stunning show where the fine voices of Albany Pro Musica bring beloved show tunes to a new level of artistry.
Albany Pro Musica Masterworks Series presents
Lux Aeterna
Sunday, May 6, 2018, 3 p.m., at the Troy Savings Bank Music Hall
Tickets: $45, $35 Student $15
The Albany Pro Musica Masterworks Series presents Morten Lauridsen's exquisite Lux Aeterna and Michael Haydn's moving Requiem.  Lauridsen was named "American Choral Master" by the National Endowment for the Arts and received the National Medal of Arts "for his composition of choral works combining musical beauty, power and spiritual depth that have thrilled audiences worldwide." Under the shadow of his famous brother Joseph, Michael Haydn wrote some of the most beautiful music, of which his Requiem is his masterpiece. Two masterworks from two contrasting eras in one memorable performance with the Orchestra Pro Musica.
Subscriptions and single tickets for these performances are on sale now.  Tickets are available online at albanypromusica.org, by phone at (518) 273-0038, or at the Troy Savings Bank Music Hall Box Office, 30 Second Street, Troy, Monday through Friday, 10 a.m. to 5 p.m.
For more information about subscriptions, single tickets, or any of the programs, please contact the Troy Savings Bank Music Hall Box Office at (518) 273-0038, or visit  troymusichall.org or albanypromusica.org.