SCHENECTADY — The written song often transcends the name of the author who pens it. As a songwriter and, later, a singer, Carole King wrote the soundtrack for her generation. And, she remains a household name.
This week, theatre patrons will be introduced to King's life story through "Beautiful: The Carole King Musical," when the production's tour hits Proctors Theatre for a five-day stint starting today Wednesday, April 12.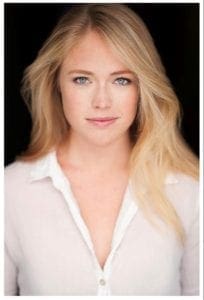 More than half a century after starting her musical career, King remains relevant. Her music continues to resonate within the lives of people, whether they be children of the 70s or today's millennials. King pushed herself into a male-dominated music industry at the age of 16 in 1958, earning a place among the venerable staff songwriters at the Brill Building in New York City. King persevered and established herself as a prolific songwriter before the age of 30.
Accolades aside, it's a black and white picture of those Brill Building songwriters that caught actor Erika Olson's eye while researching her role. A group shot of a bunch of men, and just two women.
One of the women, obviously, is King. The second, Olson's character, is that of fellow songwriter Cynthia Weil. Weil, in her own right, could have a musical based off her life. Her career accomplishments, shared with her husband of more than 50 years, includes accolades and a playlist of songs that nearly rivals King's, her friend.
Olson, playing in her first major production since graduating from Carnegie Mellon, has been described as a "firecracker" playing Weil. "She says what she feels," said Olson. "And, she's a career driven woman who is just so passionate about her writing and her lyrics, and making great songs. She's competitive, but also a great friend to Carole. I just like her grit… she's such a spitfire." The California blond admits she feels spoiled by the role — her first outside of an ingénue — gifted with witty lines and providing the musical with comic relief.
"Like most people who come to see the show, I totally knew their songs, but I didn't know who they were," said Olson, who shared she was blown away by King's and Weil's careers after seeing the show for the first time. "But, not only that. It's this strong, powerful woman who has been writing all these songs. So that really, really attracted me to her in the first place." Olson refers back to the photo from the Brill Building. "… you see Gerry Goffin and Barry Mann, writers and Donny Kirshner, and then there's two women in the picture. There's 15 or 20 people, and these two women, Carole and Cynthia. … They were not only powerhouse writers and composers, they were also really strong, driven women of their time."
Unlike King, Weil and her husband, Mann, wrote hundreds of songs for others to perform. Tony Orlando, Linda Ronstadt, Dolly Parton, Elvis Presley and Barbra Streisand are a few of just among the many stars who hit the Billboard charts with their songs. In 1987, the couple was inducted into the Songwriters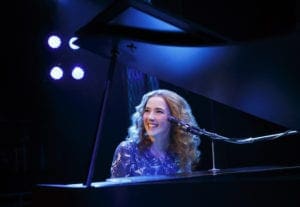 Hall of Fame. In 2011, the two received its highest honor — the Johnny Mercer Award.
"The deceptively simple lyrics that they wrote are so universal and can speak to anybody," said Olson. "They resonate with so many different people and bring
the sense of nostalgia and an overwhelming sense of emotion. … I think ["Beautiful"] carries a powerful voice." Olson recalls performing in Hartford on the day of a women's rally in the city. The actors went outside to watch the demonstrators, and upon returning backstage, "then put on this show that celebrates women. It's a really cool time to be performing this piece of work, specifically."